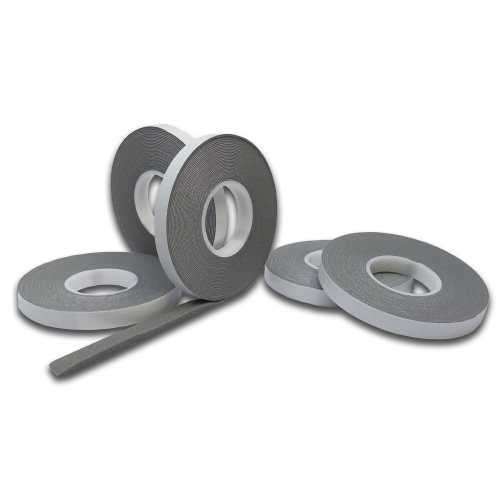 Specification
Properties

ISO-BLOCO 300 is suitable for sealing joints and connections in building construction and facades. It is particularly suitable for applications involving windows, metal, masonry, wood and drywall. ISO-BLOCO 300 can also be used as a thermal barrier tape.

Movement of structural elements and temporary changes in length have to be taken into account for the max. joint width.

Applications

Complies with DIN 18542 BG 2
Seals against wind, dust and driving rain
Permanently elastic with long term life expectancy
Vapour diffusion permeable
Thermal and acoustic insulation
Can be painted over with standard emulsion paints
Good adhesive properties, to aid installation
Constant quality control to DIN standards, with regular controls from independent institutions

Benefits

ISO-BLOCO 300 is a special impregnated PUR sealing tape. In its compressed state it is a reliable seal against driving rain, dust and drafts. With the appropriate compression, it offers a reliable protection against driving rain to a minimum of 300 Pa. Equivalent to Strong Gale 9 wind force. ISO-BLOCO 300 is also a thermal and acoustic insulation. It meets the high qualification requirements for the BG2 classification, in accordance with DIN 18542 issue 2009.
Orderidentifier

Article Number

Dimensions [mm]

Box contents m

Metres per roll m

Unit

ISO-BLOCO 300 10 / 1-4

0030010104
10 / 1-4
390.0
13.0
390

Specifications

Dimensions [mm]

10 / 1-4

Box contents

390.0

Metres per roll

13.0

Orderidentifier

ISO-BLOCO 300 10 / 1-4

Unit

390

ISO-BLOCO 300 15 / 1-4

0030015104
15 / 1-4
260.0
13.0
260

Specifications

Dimensions [mm]

15 / 1-4

Box contents

260.0

Metres per roll

13.0

Orderidentifier

ISO-BLOCO 300 15 / 1-4

Unit

260

ISO-BLOCO 300 15 / 2-6

0030015206
15 / 2-6
240.0
12.0
240

Specifications

Dimensions [mm]

15 / 2-6

Box contents

240.0

Metres per roll

12.0

Orderidentifier

ISO-BLOCO 300 15 / 2-6

Unit

240

ISO-BLOCO 300 15 / 4-9

0030015409
15 / 4-9
160.0
8.0
160

Specifications

Dimensions [mm]

15 / 4-9

Box contents

160.0

Metres per roll

8.0

Orderidentifier

ISO-BLOCO 300 15 / 4-9

Unit

160

ISO-BLOCO 300 20 / 1-4

0030020104
20 / 1-4
195.0
13.0
195

Specifications

Dimensions [mm]

20 / 1-4

Box contents

195.0

Metres per roll

13.0

Orderidentifier

ISO-BLOCO 300 20 / 1-4

Unit

195

ISO-BLOCO 300 20 / 2-6

0030020206
20 / 2-6
180.0
12.0
180

Specifications

Dimensions [mm]

20 / 2-6

Box contents

180.0

Metres per roll

12.0

Orderidentifier

ISO-BLOCO 300 20 / 2-6

Unit

180

ISO-BLOCO 300 20 / 4-9

0030020409
20 / 4-9
120.0
8.0
120

Specifications

Dimensions [mm]

20 / 4-9

Box contents

120.0

Metres per roll

8.0

Orderidentifier

ISO-BLOCO 300 20 / 4-9

Unit

120