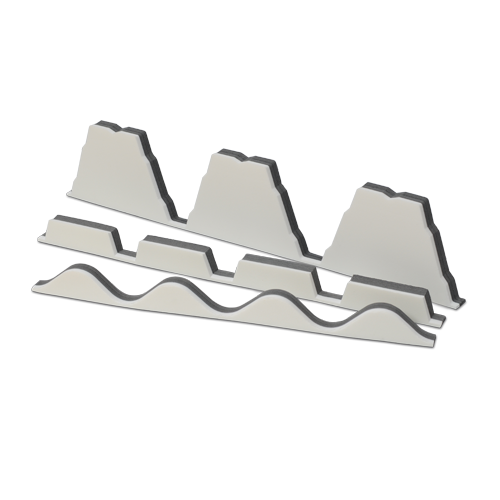 Specification
Applications

Reliable and permanent sealing of trapezoidal and corrugated metal sheeting
Sound and thermal insulation
Roofing applications (roof ridge, eaves)
Facade (parapet connections)

Benefits

Exact fit and dimensions for every trapezoidal sheet
Fine cells with a consistent smooth surface
Permanently elastic as well as having form stability
Environmentally friendly - chemically neutral
Available with UV-resistant aluminium lamination
Fire protection class B2, B1 as a special property
Two-coloured for increased flexibility when installing
Conforms to the requirements of the new IFBS guidelines for joint tightness on lightweight steel constructions
High and regularly examined product quality

Description

ISO-PROFIL filler strips are profile cut strips of high quality PE foam material. They are used in metal and industrial building structures to seal and insulate trapezoidal and wave profile sheets. They have the optimum form for a wide range of European manufactured trapezoidal and corrugated metal sheeting.
Orderidentifier

Article Number

Profile

Stiffening corrugation

Strength mm

Unit

Kingspan 35 / 333 large

0080035333
Kingspan 35 / 333
large
30.0
1

Specifications

Profile

Kingspan 35 / 333

Stiffening corrugation

large

Strength

30.0

Orderidentifier

Kingspan 35 / 333 large

Unit

1